ChkOUT

-

Mixed Reality Retail
How to make shopping more immersive?

USER
18-34 year old shoppers
Tech Savvy
Millenials


MY ROLE
UX Designer
Product Designer
UI Designer

Co-Founder
TOOLS
Paper prototyping
Whiteboards, Post-its
Slack + Airtable
Google Photos
Sketch + Invision
Adobe Illustrator,
Unity Game Engine


TEAM
Thofeek A - Developer
laine Lau - Project Manager
︎WHAT
ChkOUT is a Virtual Reality Retail platform that enables Retailers to sell their products in Immersive environments & provides In-depth analytics for valuable insights into buyer retail behavior.
For Shoppers, ChkOUT provides the next generation of shopping experience that takes the benefits of Brick and Mortar stores and convenience of Online shopping using VR.
In the future, ChkOUT will further evolve into a Mixed Reality Experience.
︎BRIEF
How might we create the next generation of retail experince, using technology such as Mixed Reality, Virtual Reality & Augmented Reality?
To create the most immersive retail shopping experince.
︎CHALLENGE
RETAIL IS CHANGING
TURBULENT MARKET

In 2017, nearly 7,000 major stores had a closing announcement. However, online retail had a great year, and larger retailers show promising signs of growth.
Source: FGRT

EXPERIENCE IS KING

Today's consumers are more focused on the overall shopping experience. Experience-based retailers are powering ahead in terms of customer growth and conversion rates. Source:
PWC
SKYROCKETING
REAL ESTATE COSTS
Commercial real estate costs are increasing rapidly on an annual basis in major cities worldwide.
︎PROCESS
We kicked off the project with a 3-day design sprint and followed a rapid iteration process. Scrum roles were identified according to strengths and weaknesses of the team.
We followed a simple version of a design thinking approach to get more clarity on this project.
We use Air Table and Slack for project management.
︎RESEARCH
"Retail landscape is changing & it's growing at an exponential rate around the world"
︎PROBLEM
Mid-sized retailers are struggling to compete

︎USER PERSONA #1
To test the buying cycle and create a shopping user flow we interviewed a number of shoppers. Based on this we realised there are 2 main distinctive type of personalities of users. Strictly online shoppers & some who switch to a OmniChannel (combination of Online & Brick-N-Mortar shoppers). We decided to go with the latter audience as most users we interviewed identified closely with this user group.
The proto persona we created is:
Jane, who is tasked with buying a Yoga mat
from the both the
Brick-and-Mortar and Online store
.
︎USER ANALYSIS #1
To get a better understanding of Buyer's & Retailer's journey we mapped out both the Buyers's & the retailers journey in great detail.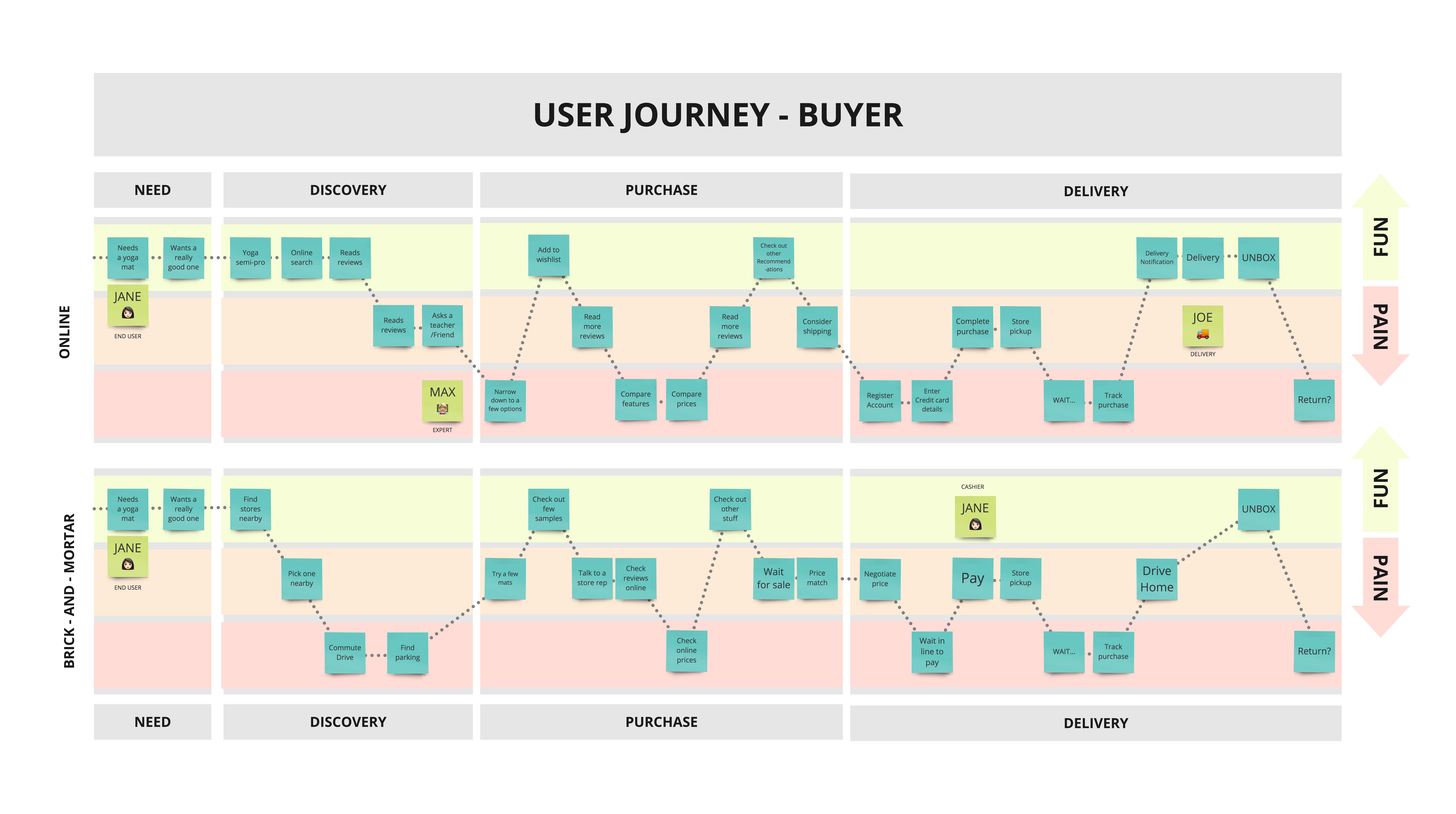 We mapped out the same user journey of
Jane buying a Yoga mat
in both an
online shopping
along with
Brick-and-mortar
space for easy comparision. This gave us an insight into the
Onmichannel world of retail
our users shop in currently.
︎DEFINE
The Problem we are solving
Mid-sized retailers are struggling to compete in the current retail landscape.

They are plagued with many problems. The key issued we identified are:
EXPENSIVE FLOOR SPACE
Showcasing inventory takes up a lot of space. Opening a new store to reach a larger audience is expensive.

MINIMAL PERSONALIZATION
Unable to tailor experiences, and offer personal touches for customers without having to hire more staff. This is easier to do online, but not as compelling.

BORING EXPERIENCES
Retail is transitioning into a wider community of commerce, one that combines entertainment with shopping. Retailers need to find ways to keep customers engaged, both in-store, and online.

LACK OF REAL CUSTOMER INSIGHT
No effective method to get deeper, personalized insights into real-world shopping behaviour, and act on them.
INCONSISTENT
OMNI-CHANNEL
Customers demand consistent experiences. Most retailers either fail at it, or find it almost impossible to do due to the nature of their product offerings.
︎USER ANAYSIS #2
We started mapping out the user analysis for one type of a client we aere in contact with, famous A baby store in Richmond called "Baby on route". This would be a begining for us to understand the Online reail as a ctategory & give insights we could build on as we progrees to build out Mixed reality Shopping platform.
User Journey - Buyer (Current - Baby on Route )
User Journey - Retailer (Current - Baby on Route )
︎COMPETITION
A lot of great work has been done in online retail space. To understand this we studied the competetion thoroughly.
Competetive landscape was thoroughly studied.
User flow from leading online retailers such as Amazon, Ikea, Asos & our client Baby En route store was analysed in detail.
︎SOLUTION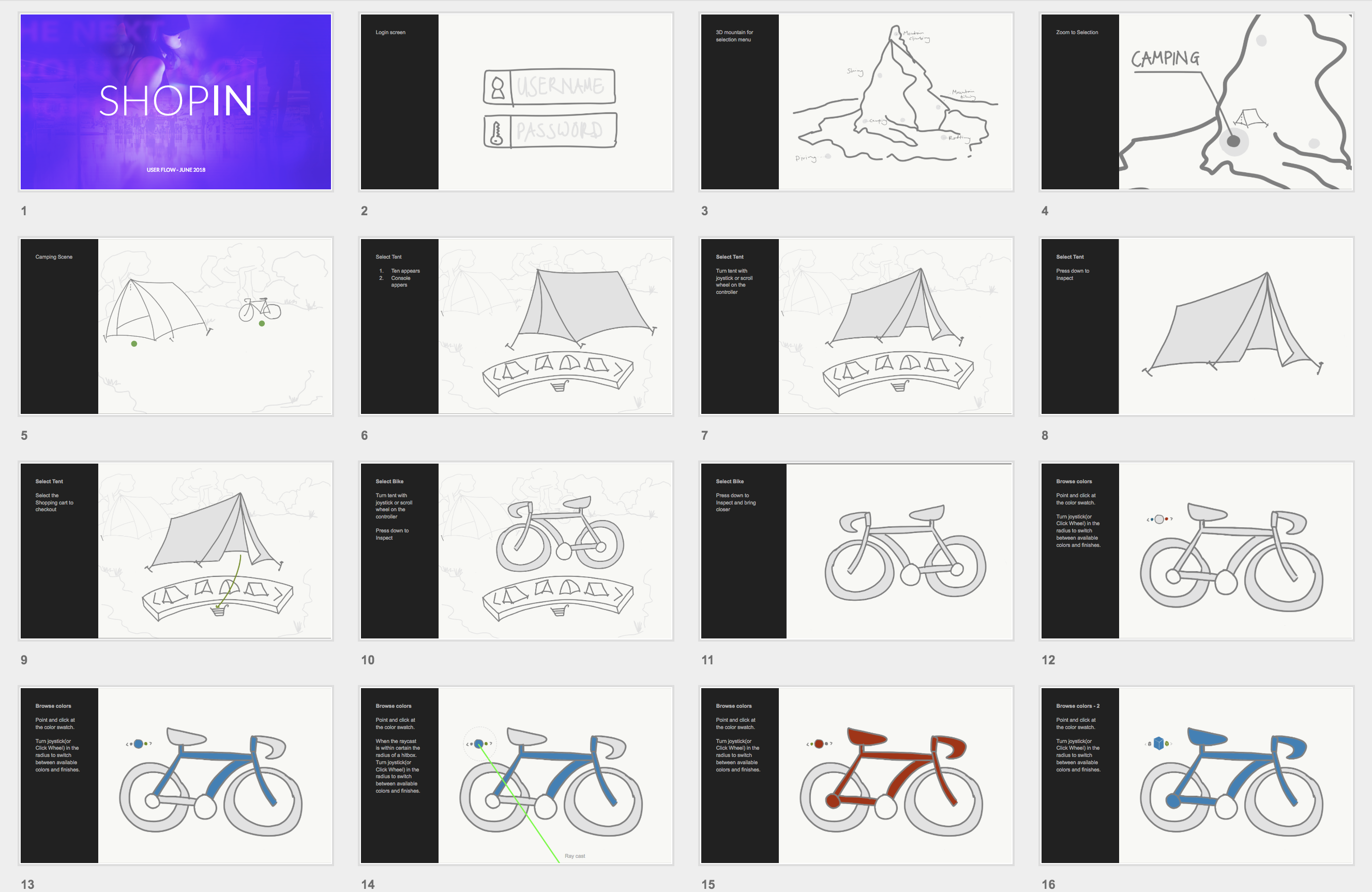 Value offering
︎PLATFORM
Why VR as a platform ?
We used a 5whys process to arrive at VR as a platform. We conducted an A/B test, where we built the same interaction for product views in Augumented Reality & Virtual Reality. VR tested as a preferred alternative, as it was seen as more immersive & user got a better sense of scale of the products tested.
Infinite Showroom Space
Showcase your tents at a campsite. Display your leather couch in a nice cigar lounge. All of this without having to invest in more space. The environment plays a huge part in showcasing your product, so why compromise?
Compelling Experience
Use storytelling and narrative to build an emotional connection with your customers. Create compelling virtual experiences that showcase both the product and the experience behind it.
Powerful Analytics

Access in-depth insights into consumer shopping behaviour. Tailor experiences to each type of customer and fine-tune your product offerings for maximum conversion.
︎USER EXPERINCE
Proposed User Journey - Buyer (ChkOUT)
PROTOTYPE 1: Sketch - User Journey Storyboard- Buyer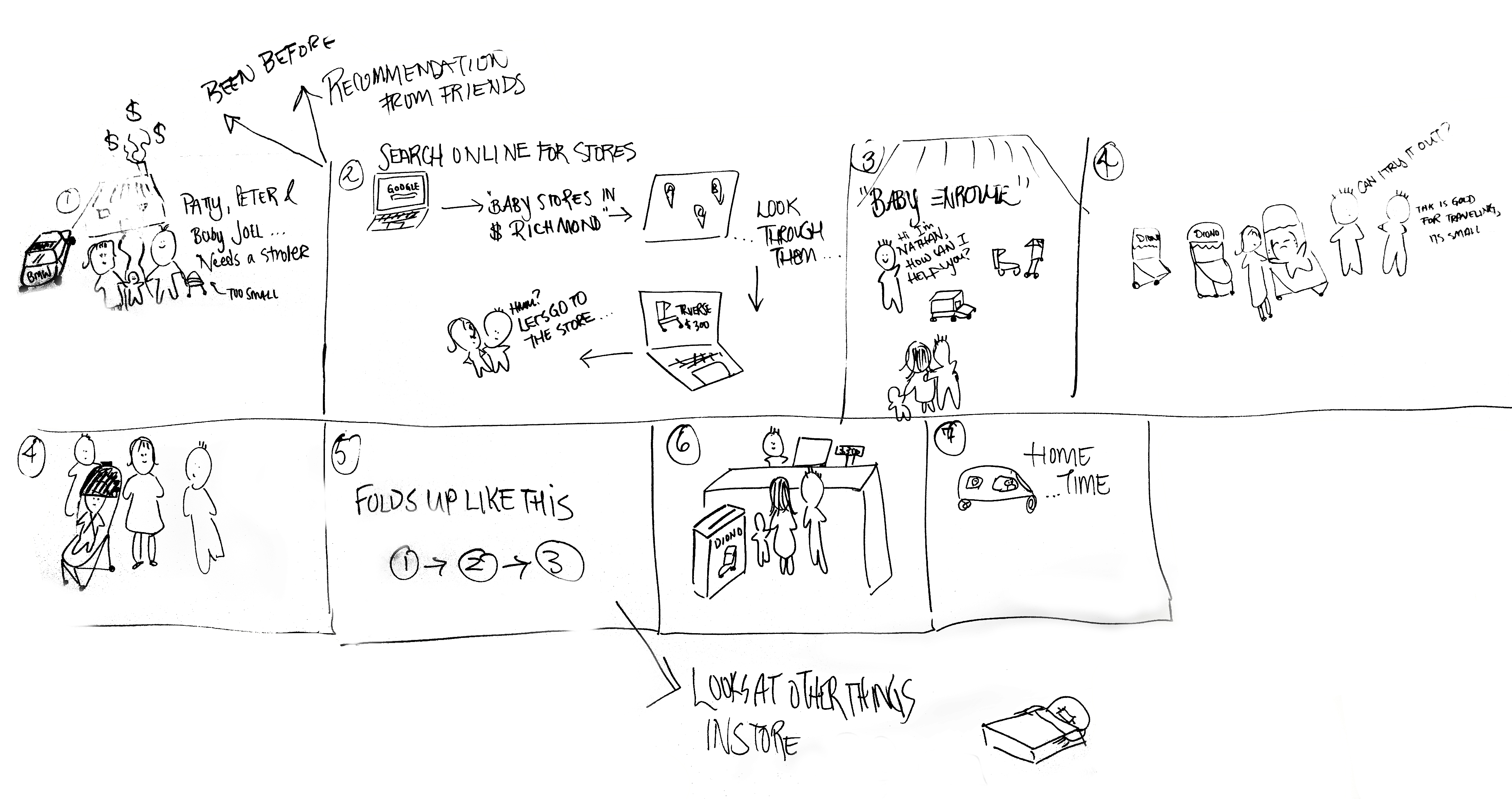 PROTOTYPE 2: 3D Greyboxing Using SketchboxVR & Unity3d
PROTOTYPE 3: Texture test with temp assets in Unity3D
PROTOTYPE 4: Unity3D Scene Blocking with Probuilder
PROTOTYPE 5: Unity3D Temp Assets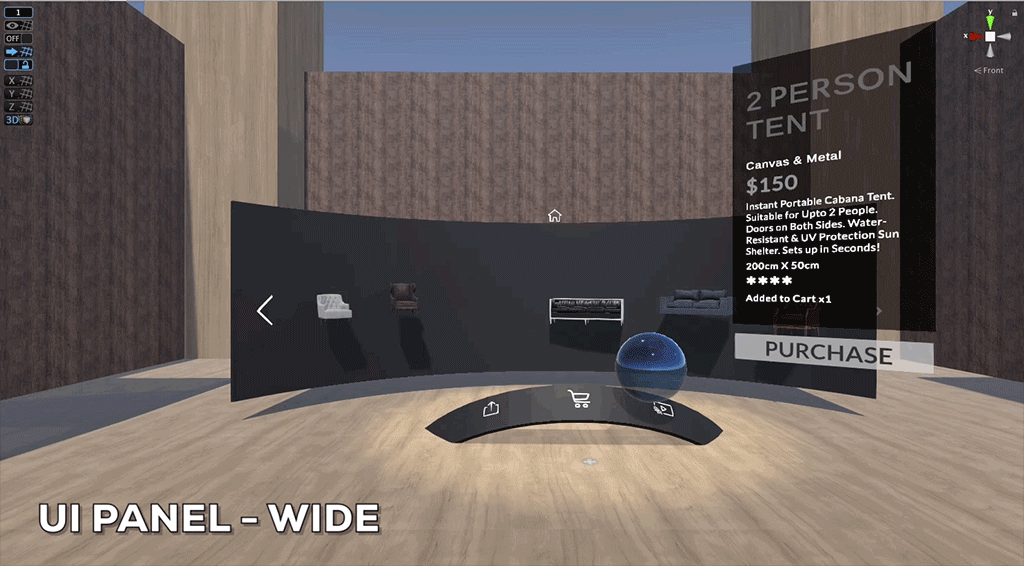 CURRENT VERSION: Unity3D Final Assets + Interactions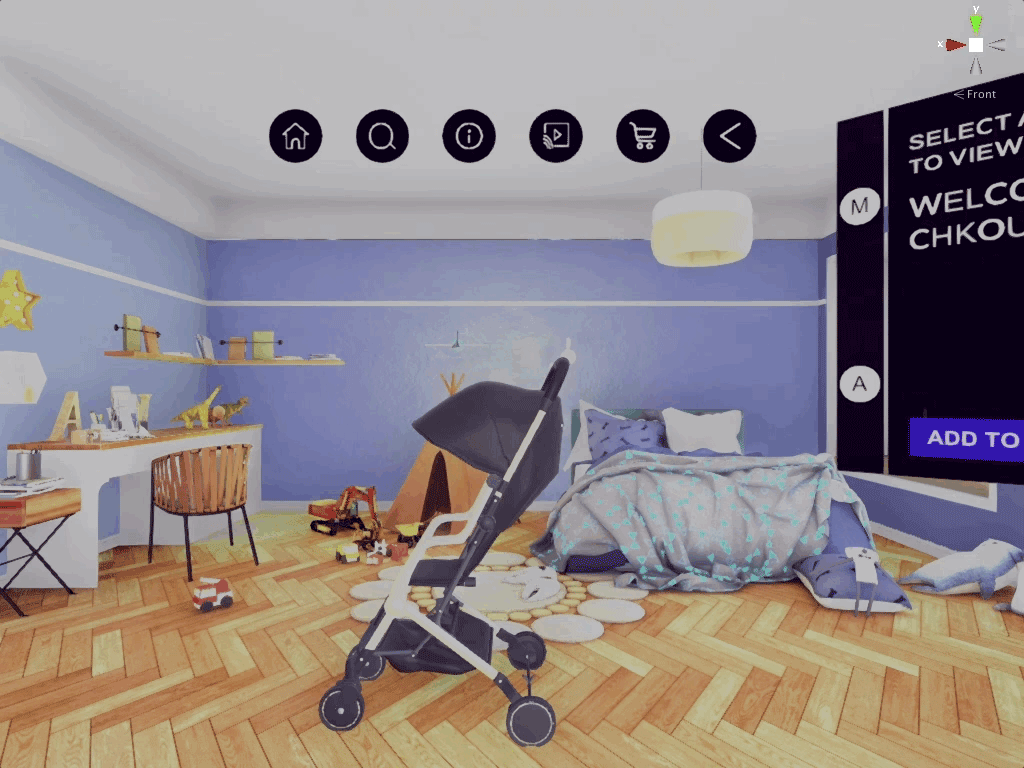 Information Architecture
A careful anaysis of user flow and behaviour was conducted to develop our own Information Architecture.
Feature Analysis for Menu design & prioritization
︎USER TESTS
We have scheduled regular user tests every 2 weeks. This keeps us on track with a steady cycle of feedback loop. These tests are recorded in video and survey format.
User Test Survey & findings
︎USER INTERFACE
In this project I worked on the UI directly in Unity3D as we did not have time or the resources to do this any other way. As a result I could further enhance my Unity skills builing on what I had learnt in my earlier AR game project. We considered a Constellation Type menu for easier navigation.
I conducted extensive research into navigation systems into the emerging VR space. Daydream Elements from Google and Exploration in VR by Leap Motion was particularly helpful.
We considered a 3D room for the main menu selection. It proved to be too cumbersome & expensive in terms of developent. It was interesting idea to explore nevertheless.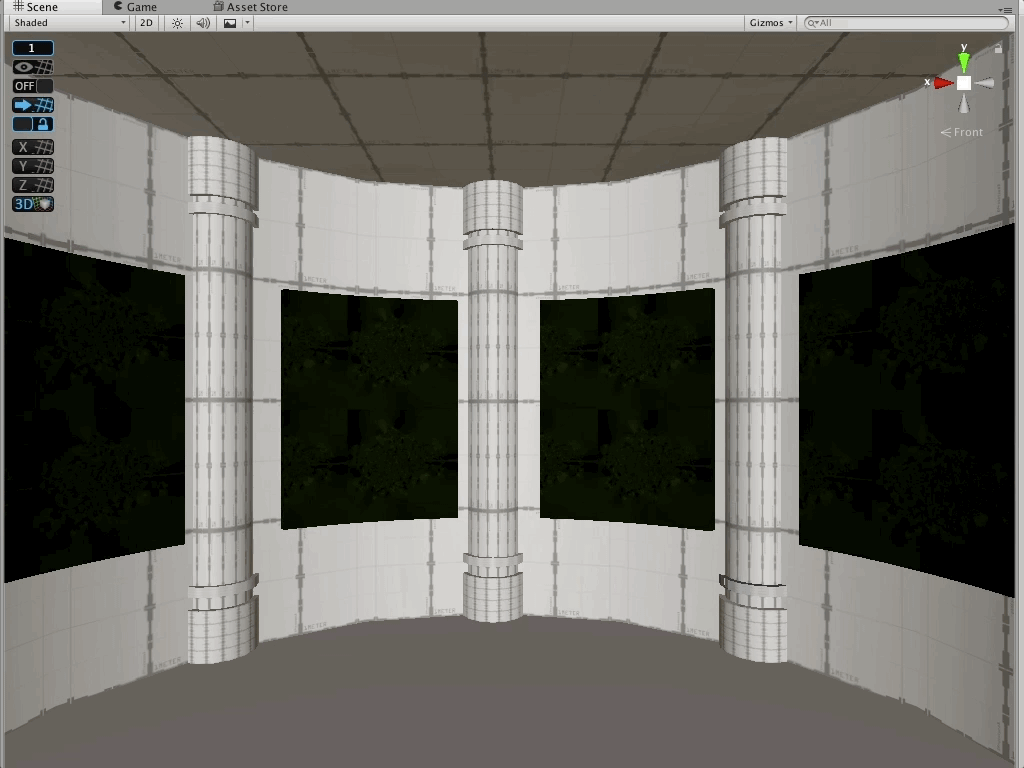 On hand menu Control Scheme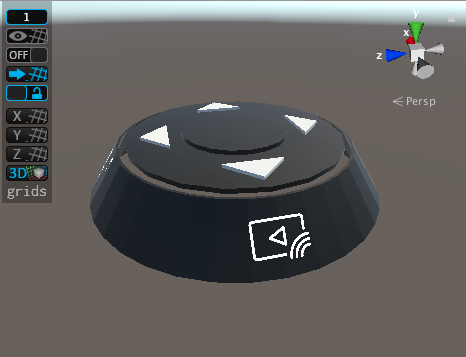 VR Control Sceme - For various head sets

Iconography
Typography.
Lato an open source web font family by Google was chosen for its legiblity in VR.
︎DEMOS
As a team we take showing our work to a wider audience very seriosly. We demo our product regularly at local VRARA events to get feedback. We have made a lot of networking connections and gained some valuable feedback in process.
Few of our demo highlights were to be chosen to represent Vancouver at the Siggraph 2018 "Future of XR" event, a Vancouver VRARA event which took place at Microsoft Vancouver office among others.
︎WHAT WORKED
1. This is project has been a great opportunity for me to learn and design the User eXperience in VR/MR space.
2. Learnt how to lead a team in a Co-Founder's role & find product market fit.
3. Rapid prototype and develop a tablet game VR & AR by continuous iteration.
4. Learning about fund raising in a Startup Culture.
︎ WHAT DID NOT
1. I wish I had learned more about Business developent and strategy early on. I am continuously trying to develop in that area.
2. To get one more skilled developer and an inhouse 3D artist would have helped a lot in moving the project further.
3. As a team we did not go out and actively look for clients as we felt we were not ready. We learnt the hard way that, there is no such thing as market ready.


︎FUTURE
IN-STORE EXPERIENCES
Kick off with bespoke in-store experiences to gauge customer interest and maximize product penetration.

SCALE
Enable development teams to rapidly add new virtual stores, build and integrate modular components, develop a robust 3D scanning pipeline.


AGILITY
Continuous testing with retailers and customers to design a great virtual shopping experience.


SELF-SERVE + ANALYTICS
Develop framework to allow retailers to independently set up and manage their virtual stores with ease, and deliver valuable insights via customer analytics.
TEAM
#410087
Take a look at some more of my work ︎